Emergency lowering guides & familiarisation video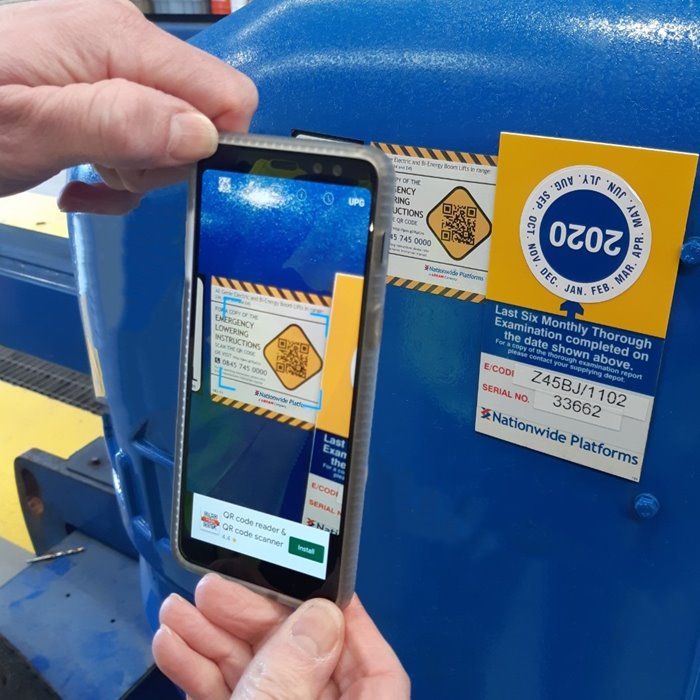 One of the steps we have taken to advance working at height safety is to introduce emergency lowering guidance for many of our machines. The aim of this guidance is to supplement the manufacturer's manual by pulling together relevant information on issues to consider when setting up a machine, as well as providing information on how to safety bring a machine down from height using the ground controls.
Boom Lifts
| | | |
| --- | --- | --- |
| Genie Electric and Bi-energy Boom Lifts | | |
| JLG Electric Boom Lifts | | |
| JLG Electric and Bi-energy Boom Lifts | | |
| Genie Diesel Boom Lifts | | |
| Genie Large Diesel Boom Lifts | | |
| Genie Large Diesel Boom Lifts | | |
| Genie Diesel Boom Lifts | | |
| JLG Diesel Boom Lifts | | |
| Niftylift Bi-Energy Boom Lifts | | |
| Niftylift Diesel Boom Lifts | | |
| TITAN 60-S & 40-S | | |
Scissor Lifts
Genie Electric Scissor List

GS1930, GS31932, GS2032, GS2046, GS2632, GS2646, GS3232, GS3246
(with familiarisation video)

Genie Electric Scissor Lifts - Gen 3 & 4

Haulotte

JLG Electric Scissor Lifts

1930ES, 2030ES, 2630ES, 3246ES, 1932, 2032, 2033, 2646, 3246

JLG Electric and Bi-energy Scissor Lifts

JLG Scissor Lifts - E3 Series

SkyJack Electric Scissor Lifts

Genie Diesel Scissor Lifts

SkyJack Diesel Scissor Lifts

SkyJack Diesel/LPG Scissor Lifts
Tracked Access Machines
Truck Mounted
| | | |
| --- | --- | --- |
| CTE Z20 Truck Mount | | |
| Versalift Eurotel | | |
| Gardner Denver Truck Mount | | |
| Ascendant Truck Mount | | |
Low Level
| | | |
| --- | --- | --- |
| Nano | | |
| Nano | | |
| Genie Runaround | | |
| Power Tower | | |
This short guidance has been produced with colour pictures to allow for easy identification of relevant parts and is available in any one of the following three ways:

Available for download from this web page. This is aimed to encourage businesses and end-users to download the guidance when planning their work at height, such as when preparing a method statement. The documentation can then also be used for pre-task briefings and for refreshers.
Copies of the emergency lowering guidance will always be made available with the operator's manual in the basket the machine delivered to site. This hard copy can be used by both the operator and appointed rescuer prior to work commencing.

QR technology: Each machine with an emergency plan will have a QR code fitted adjacent to the emergency lowering controls. This can be scanned using a smart phone or tablet with any QR code reader installed. The scan will take you directly to a PDF version of the emergency lowering plan for that machine.
The QR Code
A Quick Response or "QR" code looks like a square-shaped barcode and can often be found on adverts, posters, in magazines and more. Now you'll also find them on the majority of our access platforms to help make accessing emergency lowering guidance even easier.

Simply download a QR scanning application or "app" for any smart phone or tablet fitted with a camera and scan the code to access the machine specific documentation.
Which App do I need to download?
IPhone: "SCAN" - available to download from iTunes.
Android: "SCAN" - available to download from Google Play.
Blackberry: Search for a "QR Code Scanner" in Blackberry App World.
Nokia: Many Nokia smart phones already have a Nokia Barcode Reader installed
What happens when I scan the QR Code?
When your QR code scanner application recognises the barcode your internet browser will be directed to view or download the appropriate guidance. If the machine has a familiarisation video attached to it, you will get the otion to view either.
Accessing Emergency Lowering Guidance
Remember, you can download emergency lowering documentation directly from the bases of the vast majority of units in the Nationwide Platforms by using a "QR code scanner" on your smart phone or tablet.

A print version of emergency lowering documentation is available in the basket of every Nationwide Platforms machine where a plan has been developed and is also available on the right side of this wep page for use in assisting with the development of method statements.