Specialist vehicles
Discover the largest and most diverse fleet of specialist vehicles in the UK, providing solutions for your unique requirements
Supporting you at every height
We understand that not all work at height jobs are the same. Some have very specific requirements when it comes to working height, outreach, and access. Your equipment must be suitable, but above all, safe.

Our specialist vehicles division serve customers who require work at height equipment that offers ultimate precision for the task at hand, whilst also providing the end user with unparalleled flexibility.

With the largest and most diverse fleet of vehicle mounted platforms and tracked booms, we can provide you with the specialist equipment and support you need to ensure your project gets off the ground without a hitch.

Truck & van mounted platforms
Getting you where you need to be
When being mobile is a priority, our range of truck mounted platforms and van mounted platforms offer the flexibility you require for your work at height tasks. With the largest fleet of vehicle mounted platforms in the UK, we've got the machines you need to get your job done efficiently and above all, safely.
Range
Our range of van mounted platforms start with working heights of 13 metres to 17 metres whilst our truck mounted platforms go from 14 metres all the way up to 90 metres. With self-drive or operated options, all are available on short and long term hires.
Cost effective
Multiple jobs? No problem. Vehicle mounted platforms give you the freedom to drive from location to location, allowing you the flexibility to cover multiple sites per day. Working on public highways, or slightly off the beaten track has never been so easy.

Tracked booms
Compact access
With working heights ranging from 14 to 31 metres, our tracked boom lifts offer unparalleled access to remote sites where other working at height solutions just won't work. Measuring between 0.74 and 1.58 metres wide and around two metres high, they are able to pass through narrow aisles and standard sized doorways whilst their robust tracks enable them to travel over rough terrain to projects in remote locations with limited access.
Indoor operations
For applications where the use of a diesel engine is not permitted, we are able to offer models powered by lithium-Ion technology. Lithium-Ion technology provides quiet and emission free operation, achieving the same speeds and performance as its diesel counterpart.


Versatile tracks
Robust rubber tracks provide exceptional traction and lateral stability when working on steep slopes or rough terrain - and in some instances they can even climb stairs. As well as distributing the weight of the machine more evenly, they also exert less pressure on the ground, making them ideal for a range of indoor and outdoor applications.
Outriggers
Automatic levelling outriggers ensure the tracked boom is safe to operate in a range of ground conditions. With the ability to overcome height differences of up to 1.2 metres, some models feature variable outrigger settings to allow them to work in enclosed and restricted areas.

Big kit
Big height. Big reach. Big capacity.
We can deliver big kit, big knowledge and big safety to provide you with big advantages for your projects. Our big kit range starts from 38 metres and goes up to 90 metres with basket capacities of up to 600kg.
Big support
All our big kit is delivered to your project with one of our highly trained, expert operators to give you peace of mind. With a wide range of additional safety attachments and enhanced features, we've specified our big kit to give your project all of the additional support it could require.
Big capabilities
Not sure what big kit you need? Our site surveys team will assess your requirements and the project location to ensure you have the best equipment for your job.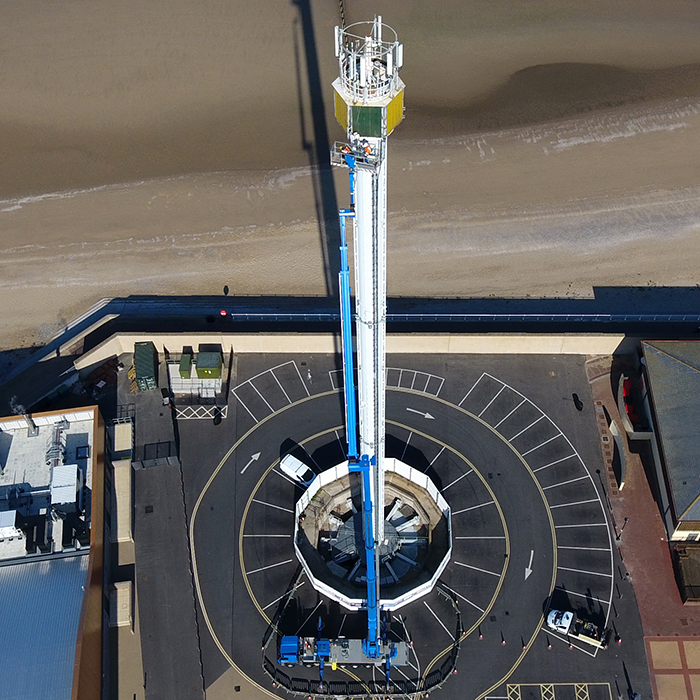 For further information on our specialist vehicles, download our literature here:
Contact us
If you would like to find out more about hiring one of our specialist vehicles, enquire below
Enquire