Our online account service
It only takes a minute to request access to our new my.nationwideplatforms online account service. All you need is a Nationwide Platforms trade account.

My.nationwideplatforms provides a quick and easy way to view various details of your account with Nationwide Platforms.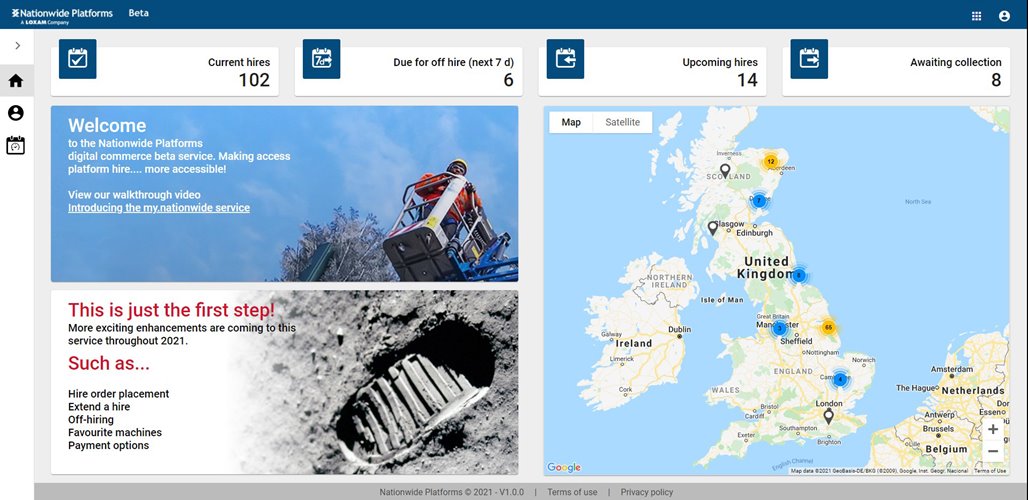 We realise that our customers sometimes need 24/7 access to their account. The my.nationwideplatforms service will allow you to view your Nationwide Platforms account whenever needed.
If you are already a Nationwide Platforms account customer you can request access for our online service via the request access option below.

Don't have a trade account? Open one today.

Commonly asked questions
How do I access the my.nationwideplatforms service?
The service can be accessed via the login option on the Nationwide Platforms website www.nationwideplatforms.co.uk, alternatively you can go directly to my.nationwideplatforms.co.uk.

The service can be used on desktop, tablet or mobile device, so even when you're out on a site you can see your account details.

What are the benefits of my.nationwideplatforms?
The service allows you to quickly see an overview of the machines you have currently on-hire, upcoming hires, hires awaiting collection and view historical orders. You can also report any machine issues or breakdowns from within the service without the need to pick up the phone.

Can I hire a machine online?
The initial service is all about viewing your account details, however our development team are already working on adding the ability for you to place new hire orders against your account. This functionality will be available for our trade account customers in May. In addition to this we are working on functionality to allow you to extend hires, cancel hires, repeat hires and many more functions making the management of your MEWP-related tasks easier.

Can other work colleagues have access?
Initially we will create a 'master' account for your company. This account will have the ability to set up additional user logins to the service for other members of your company. These 'sub-accounts' will only have access to functions which the master account holder makes available to them, for example, once the ability to place a new order against your account is released, the master account holder can enable or restrict access to this functionality for specific sub-accounts.

What if I have a problem or an issue with the service?
In the unlikely event you have an issue with the service, you can speak with your Nationwide Platforms account manager. Once you are logged in to the service you will have access to other contact options should they be required. You can also use the contact us function within the service to raise any questions you may have.

Does this service replace the standard phone support?
No, the phone support and all other contact points you have historically used within Nationwide Platforms remain in place. The my.nationwideplatforms service has been introduced to make your life easier and provides extended support for your account with Nationwide Platforms.

Is there a cost for my.nationwideplatforms?
No, access to the service is free for account customers. Nationwide Platforms is constantly looking to improve its customer service – my.nationwideplatforms is one of the ways we are making it easier for you to do business with us.
Can I feedback if I think the service can be improved?
Yes, absolutely. We would welcome your suggestions on how we can improve our service to you. Your feedback should initially be channelled through your account manager or the contact us function, however we will be introducing a more formal feedback option within the my.nationwideplatforms service to make this easy to do in future.
Request access for online services
If you have an account with us, you can now use my.nationwideplatforms online account service provides a quick and easy way to view various details of your account with Nationwide Platforms. Request access for online account services today.
Request access