Access Platform Hire for the TV, Film & Events Sector
Supporting your productions with dedicated sector expertise
Over recent years, Nationwide Platforms have enabled broadcasters and film makers to present the UK's largest live events and TV/film projects including the British F1 Grand Prix, Wimbledon tennis, Star Wars, James Bond and Peaky Blinders to name a few.
We understand the importance of meeting time critical production requirements that drive the film, TV, events & festivals industries. That's why we're pleased to offer you the largest and most reliable range of powered access platforms in the UK, along with expertise, advice and assistance from our dedicated sector team.
Key features of MEWPs for TV, film & events
A variety of power options including electric, hybrid and diesel 
Narrow aisle machines for working in areas where space is limited 
Telescopic or articulating action for maximum reach and smooth motion
Suitable for uneven ground and rough terrain
Non-marking tyres for indoor use
Why choose Nationwide Platforms for TV, film & events?
From equipment scheduling, to machine operation and safety training, we offer a complete solution for your working at height needs. In addition, our continuous commitment to safety ensures you will be able to meet your workplace safety obligations without interruption.
Nationwide Platforms are the perfect accompaniment to a variety of productions, including:
Live event filming / sports events with camera pods and 360 degree camera cages available for our truck mounted machines

Film & TV lighting, set construction, VFX / SFX, grips and art department requirements

Sports and broadcasting RF advertising and commercial productions
An approved powered access provider to leading broadcasters
Nationwide Platforms have been supplying powered access equipment to the broadcasting & events sectors for decades, so it's reassuring to know that we are approved suppliers to the BBC, Sky, ITV and Channel 4. We're also the first powered access supplier recommended by Albert; a BAFTA governed consortium taking action on environmental sustainability in the UK production and broadcasting industry.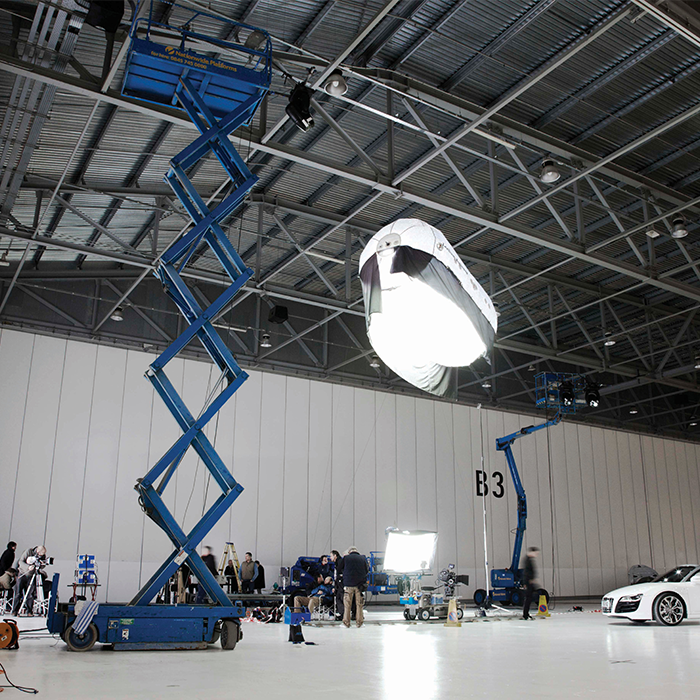 Case study - Peaky Blinders
The producers of the hit BBC TV series Peaky Blinders, and their BAFTA award-winning cinematographer George Steel, set high standards for the quality of lighting and filming. This frequently involves working at height, either for positioning lighting rigs for a range of indoor, outdoor and evening shoots, or for carrying out filming. This work needs to be done safely and with specialised on-site support and advice.
Find Out More