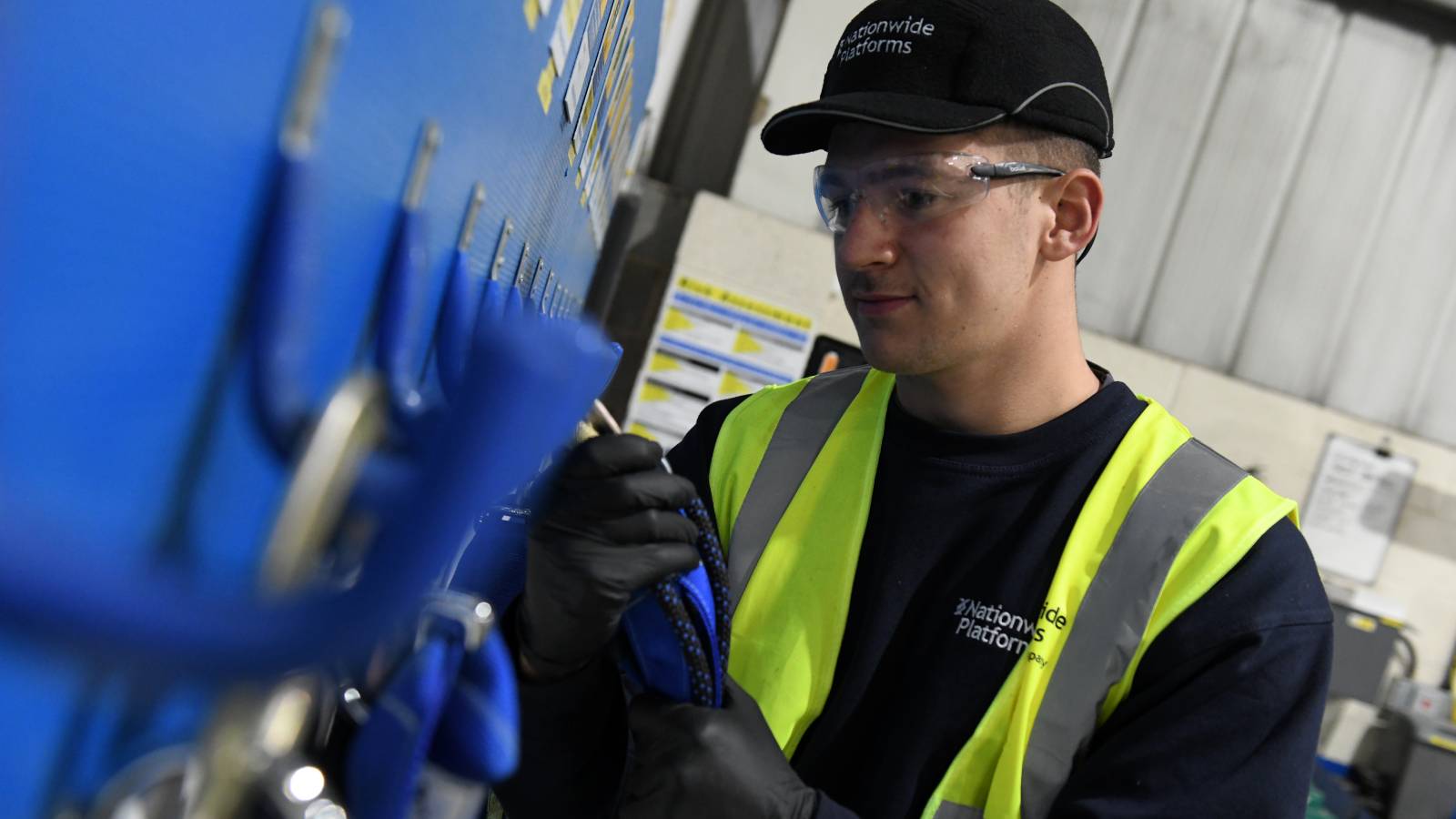 12 New Apprenticeship Opportunities at Nationwide Platformsew apprenticeship opportunities
Nationwide Platforms, the market-leading powered access rental company in the UK, has opened applications for 12 new apprentices in engineering and driver operator roles. 
The six Engineering apprentices and six Driver Operator apprentices will be trained and developed to work with the wide range of machines that make up Nationwide Platform's 13,000-strong fleet of rental equipment, supplied to customers via its network of 35 depots.
Adam Revell, Head of Technical Training at Nationwide Platforms, comments: "Apprentices are the future. This is not just an important investment for Nationwide Platforms, but for the industry as a whole. HGV drivers and engineering are two of the biggest skills gaps out there, and we've got to bring more young people through. Our commitment to 12 new apprentices helps widen the talent pool for everybody."
The Nationwide Platforms Engineering Apprenticeship is a three-year programme tailored to develop multiple skills, including essential engineering, growing within a work place and meeting high standards. Apprentices work towards an NVQ Level 2 & 3 in Plant Maintenance, with block release classroom training taking place at regular intervals at a specialist residential college.
The apprentices also receive considerable on-the-job training, gradually being given more responsibility throughout the three years.
"Every apprentice is given a dedicated Nationwide Platforms mentor to help train, guide and support them through their apprenticeship. These are typically fellow engineers with many years of knowledge to share with the apprentices. We provide training to the mentors to give them coaching skills, and they enjoy being able to give something back through mentoring," explains Revell.
Upon successful completion of the programme, the apprentices become fully qualified Engineers within Nationwide Platforms, carrying out on-going inspections and repairs of machines.
"Our business relies on being able to hire out safe, reliable, fully-functioning machines. The Engineers play a vital role in ensuring the safety of our equipment and minimising downtime for the customer," adds Revell.
The Nationwide Platforms Driver Operator Apprenticeship is a 12-month programme that entails a seven-day intensive driver training programme for the apprentices to obtain their Class 2 driver's licence, along with required qualifications to ensure they are professional drivers who positively represent the brand (Driver Operators are often the face of the company to many customers). They also receive classroom training delivered by the National Logistics Academy, based in Manchester.
Driver Operator apprentices are provided on-going machine training to ensure they have the requisite knowledge of the huge range available, enabling a smooth handover to customers for safe operation.
Once qualified, the Driver Operator apprentices become full-time Operators for Nationwide Platforms, operating powered access machines for our customers
"It's a great role because one day they can be working on a film set, and the next, up on a bridge as part of a bridge inspection. Our machines also get used for a lot of sporting events, such as the London Marathon," says Revell.
Safety plays a huge role in the work that Nationwide Platforms does, and this is instilled in the apprentices throughout their training.
Aaron Hyde, winner of the Construction News Apprentice of the Year 2020 and now a fully qualified Engineer at Nationwide Platforms, says he would highly recommend an apprenticeship with Nationwide.
"You learn so much from the experienced engineers here, and every day is different. As an apprentice, you get treated and respected just the same as the qualified engineers, and given lots of responsibility, which helps you learn faster. It is a great environment to work in."
Nationwide Platforms Chief Operating Officer Paul Rankin comments: "Nationwide Platforms is proud to support National Apprenticeship Week with the opportunity for 12 new apprentices to join our business. Our ethos is to instil transport and engineering excellence into the next generation and inspire continuous improvement of powered access safety and best practice."