Apprenticeships
Start your career with our leading Apprenticeships Programmes
About our Apprenticeships

Engineering
Nationwide Platforms engineers are critical to our success as a business. High quality engineering is at the heart of our operations ensuring the safety of our customers working at height using our equipment. As the industry leader it is our duty to instil the same engineering excellence we pride ourselves on into the next generation, safeguarding the use of powered access into generations to come.

It is with this in mind that we tailor our engineering apprenticeship programme to our incredibly high standards, providing outstanding support and guidance from our engineering teams, HR and technical training managers throughout the apprentice's journey with us. We supplement all of our apprentices with enhanced technical training in order to prepare them for their career as a Nationwide Platforms engineer. This includes additional OEM training, our bespoke BlueSky Technical Course providing in depth knowledge of wiring and diagnostics of our award winning MEWP safety innovations and our PHI Course detailing all technical measures required to prepare a machine for hire.

This extensive additional training is complemented with an excellent apprentice pay structure and bonus payments for achieving milestones in qualifications and our commitment to guarantee roles within the business post qualification, with further investment in training and further education.
Find out more about our Engineer Apprenticeship Programme below: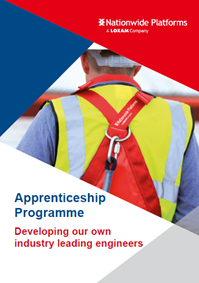 HGV Driver
Nationwide Platforms exists to keep our customers safe, productive and expertly trained. Our drivers play a critical role within our business as the final link in the supply chain; ensuring our equipment is delivered and collected on time, and confirming our customers receive the necessary equipment familiarisation to use our equipment in the safe manner it is intended.

Our trainee HGV Driver Apprenticeship is a one year programme designed to instil fundamental knowledge, skills and competencies whilst providing practical HGV driving experience. Trainees are assigned a full-time mentor who will see them through the length of their course, sharing best practice and passing on their industry leading expertise whilst completing on-the-job training alongside attendance at the National Logistics Academy.