PowerGuard
Nationwide Platforms damage/loss waiver scheme
PowerGuard indemnity scheme provides the hiring confidence and peace of mind you'd expect from the leading powered access hire specialist.

As you'll see in your hiring conditions, you need to ensure the equipment you hire is adequately protected from loss and damage. All equipment hired from Nationwide Platforms equipment is hired out under, Nationwide Platforms.

Model conditions for the hiring of plant (July 2011). These T&C's are based upon a standard set of hire terms used widely throughout the equipment rental sector.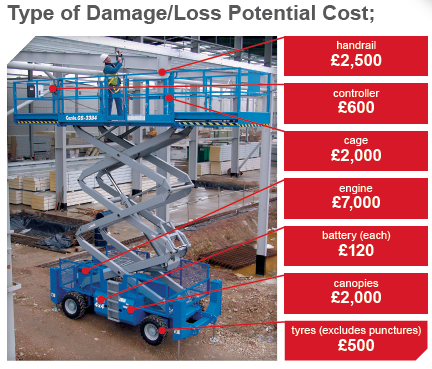 In accordance with these terms, the hirer is responsible for the loss of, or damage to the equipment hired, including during the loading and unloading of the equipment and including when it is hired with an operator. The costs associated with damage can be high with repair bills running into thousands.
Does your hired-in-plant insurance cover the high value plant equipment you want to hire?
​Do you know the excess on your hired-in-plant Policy?
Do you know when it expires?
Benefits of joining the PowerGuard scheme:
You only pay for the scheme when you have a machine on hire
No worries about forgetting to renew your Hired In plant insurance
Covered for all damage
Excess only £1,000 PowerGuard Gold
Excess is zero PowerGuard Platinum
Covered for any value of machine hired
No need to claim on separate insurance policy
Claims are simple and straightforward to process
Take out a Nationwide Platforms industry leading PowerGuard damage/loss waiver scheme plan and you will only pay for cover when you have our equipment on hire and hence, when you need it. There will be no need to claim on a separate insurance policy - and then possibly discover that the excess exceeds the costs of the damage!