Oxburgh Hall
Construction
The project
Part of on-going maintenance and repair work to help restore the National Trust's Oxburgh Hall to its former glory, Nationwide Platforms provided N.F Coverdale Ltd one of its large truck mounted platforms to help remove moss, lichen and algae from the property's roof and walls as well as clear gutters and replace missing and broken tiles.
.
The Challenge
Built in 1482, Oxburgh Hall is a Grade I listed manor house surrounded by a large water-filled moat. As well as
presenting challenges around how to safely and efficiently carry out the necessary work at height, the manor
house's historical importance meant that all work needed to be planned and delivered with particular consideration to preventing any damage. Still open to the general public, appropriate measures were also required to ensure the work was carried out in a safe manner and with minimal disruption.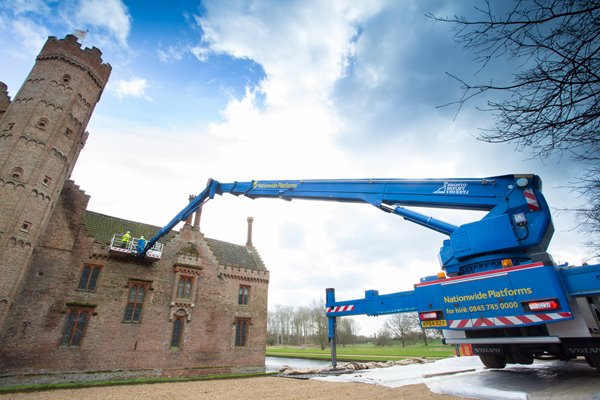 The solution
Following a site survey to assess the extent of the work and ensure ground conditions were suitable, a Bronto T50JB truck mounted platform was chosen to carry out the work. Offering a 50 metre working height and up to 35 metre outreach, the T50JB not only provided a safe solution to working over the eight metre wide moat, it also granted workers unrestricted access to all aspects of the manor including its roof, windows, chimneys, crenellations and guttering. It also reduced time and labour constraints often demanded of traditional means of access, such as the use of scaffolding.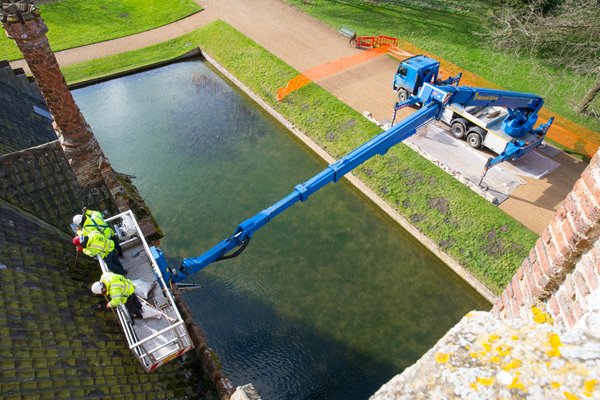 The senefits
The T50JB's extendable platform basket, coupled with an impressive 600kg capacity, allowed three operators to quickly and systematically clean up to four metres of the roof before repositioning the boom. Nationwide Platforms also provided a highly experienced operator to safely manage and control all movements to prevent any accidental damage or impact to the building. Finally, the use of the truck mounted platform, in conjunction with an effective pedestrian management system, ensured minimal distraction to visiting guests, who were still able to view the all aspects of the manor house as opposed to it being enshrouded by scaffolding.