MME1 Symmetry Park
Construction
The project
A £90 million build programme for a three storey, 1.5 million square foot logistics fulfilment centre on the outskirts of Darlington for a global online retailer. Nationwide Platforms provided a partnered managed service to identify, source and manage all aspects of powered access throughout the entire project as ISG's preferred supplier.
.
The Challenge
Despite already working to an incredibly challenging schedule, ISG faced further hurdles to overcome as several design modifications were made to the structure mid-build to accommodate worldwide customer changes. A period of bad weather also introduced new challenges to the build with ground conditions rendering indoor machines useless on rain sodden floors. Over 550 workers were employed on the site across various trades, all working across 3 storeys so a range of suitable, but above all, safe, MEWP's were required for each trade whilst adhering to strict weight limits.
.

The solution
The Nationwide Platforms partnered managed service was adopted on the MME1 project to satisfy the demand for MEWP supply and management alongside the enhanced safety measures Nationwide Platforms could provide to ISG and their sub-contractors.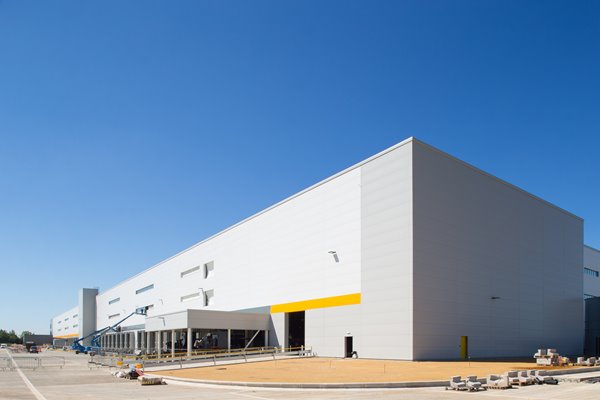 The benefits
Seen as a 'one stop shop' on-site for all MEWP provision, support and health & safety guidance, Nationwide Platforms were on hand to deliver industry leading powered access throughout the project whilst maximising productivity and safety.

The dedicated project management team, in conjunction with the on-site MEWP compound & engineer meant Nationwide Platforms were reactive to any barriers to productivity and could provide immediate support and guidance. Repairs or replacement machines were delivered efficiently, maximising machine uptime whilst delivering substantial savings through reduced transportation costs and flexible hire arrangements.

With the largest depot network and fleet of MEWP's in the UK, Nationwide Platforms could satisfy the quick turnaround required by ISG when faced with significant design changes. The change in ground conditions were no problem for Nationwide Platforms as they promptly swapped out indoor MEWP's for rough-terrain boom lifts more suited for wet weather, minimising delay and disruption to scheduled work.

Nationwide Platforms also delivered enhanced safety modifications through BlueSky attachments; SkyRakEdge™, SkyRakBoom, SkyRakPlus, SkyRakPCS & SkySiren were all adopted on site to protect operators working on the internal fit out. All machines were equipped with SkySentry™ allowing Nationwide Platforms & ISG to have complete control over all MEWP's on-site reducing unauthorised use and further safeguarding working at height safety at MME1.