Kinver Pumping Station
Construction
The project
Nationwide Platforms recently provided utility arboricultural contractor EOS Contracting a large tracked boom to assist with the reduction of a tree located at Kinver Pumping Station in Stourbridge.
.
The challenge
Situated directly above an enclosed substation and completely surrounded by a large perimeter fence with branches over-hanging the nearby pavement and road, challenges centred around how to safely access various sections of the tree as well as how to efficiently carry out the work without falling branches/debris damaging the substation enclosure or fence. Soft and undulating ground conditions, brought about by poor weather, also presented significant challenges in gaining access to work site - a task made more difficult by the need to manoeuvre around numerous trees en-route.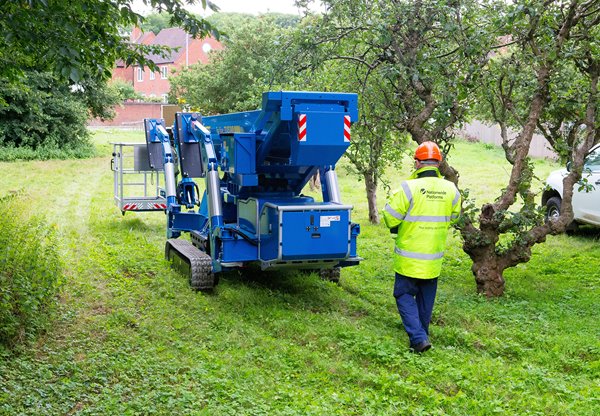 The solution
Following a site survey to assess the extent of the work and ground conditions, Nationwide Platforms recommended a Tuepen Leo31T tracked boom with its own experienced driver/operator as the most suitable option to assist with the works. Considerably lighter than conventional access platforms at 4,300kg and measuring just 1.58 metres wide, the Leo31T proved ideal in navigating the rough terrain.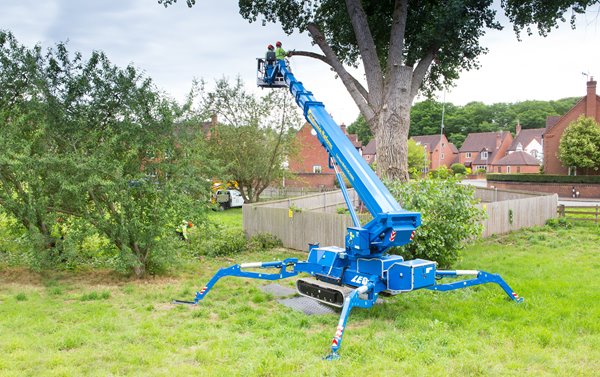 The benefits
Width-adjustable tracks providing low ground pressures helped overcome the adverse ground conditions while lightweight ground protection pads were also supplied to ensure minimum damage to the access route and set up area. Given the set up position, which was defined by the fixed perimeter fence, the Leo31T's 31 metre working height and up to 17.7 metre outreach provided the required working envelope for the tree surgeons to carry out the work. Its 250kg platform capacity also provided the necessary safe working load for both tree surgeons to work at height along with their specialist PPE and work equipment.