Antenna swap out
Telecommunications
The project
Nationwide Platforms was tasked with supplying a truck mounted platform along with its SkyTel™ antenna handling device for a major telecoms contractor to inspect and replace an antenna at height. It was also responsible for arranging and implementing an appropriate traffic and pedestrian management solution.
The challenge
After a fault in the ground level cabinet identified the need to inspect the antenna at height, a safe and effective method was required to ensure engineers could gain access to the defective antenna and subsequently replace it. In order to do this a large two metre protective shroud also needed to be removed. In both instances, a safe method of handling the shroud and antenna was required. Located at the side of a busy road, consideration was required to ensure pedestrians, cyclists and all road users remained safe. Additional arrangements had to be made for the pedestrian crossing and bus stop, both located in very close proximity to the work area.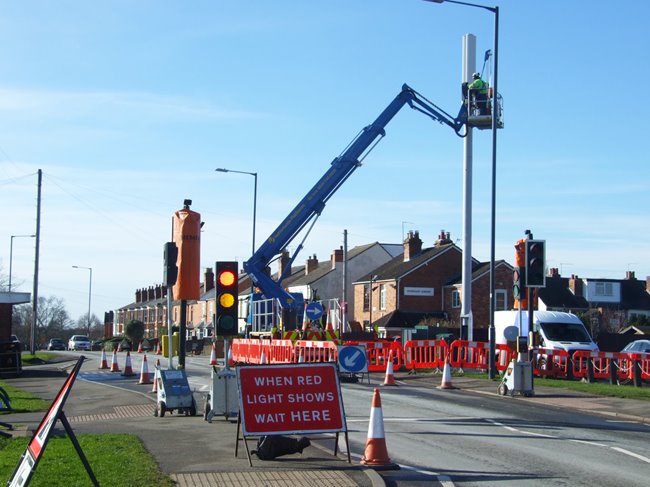 .
The solution
Following a site survey, a T22GSH truck mounted platform was selected to carry out the work. Offering a 22 metre working height and a platform capacity of 280kg, the T22GSH provided sufficient capacity for two people in the basket and for the SkyTel antenna handling device to be installed to handle the shroud and replace the defective antenna safely. With the truck mount set up on the road and operating across the pavement and over a section of private parking, an appropriate traffic and pedestrian management system was implemented to ensure a safe working area and exclusion zone. Two sets of temporary traffic lights were installed to manage the lane closure and pedestrian crossing, while the bus stop located directly opposite the mast was coned off and a temporary bus stop set-up a short distance along the road.

The benefits
The use of a truck mounted platform combined with a traffic and pedestrian management system ensured all road users and members of the public remained safe at all times. All relevant council permits and notices were handled by Nationwide Platforms and dealt with in a timely fashion. The use of SkyTel not only enabled the shroud and antenna to be handled in a safe way, but also greatly reduced the risks of manual handling and dropped objects. It also avoided the temptation to strap the shroud and antenna to the outside of the basket, which is not in accordance with manufacturers' recommendations, nor with BS8460 code of practice for the safe use of MEWPs. Nationwide Platforms also provided an experienced operator to manage and control the safe set-up and operation of the truck mounted platform and SkyTel, leaving the engineers free to concentrate on the telecoms elements of the overall task.

Customer Quote
"When it comes to offering a professional, sector-focused service, Nationwide Platforms really is a one-stop-shop. This starts with a detailed site survey, and includes the recommendation and supply of powered access, the use of its SkyTel antenna handling device and the arrangement of traffic and pedestrian management, as required per application. By removing the stress of organising this, and by taking away the need for us to liaise with local authorities for MEWP permits and/or EToN applications, all we need to do is arrive on site to focus on the telecoms work itself. This is very much appreciated. Nationwide's operators are also very knowledgeable of the sector and of our requirements, and are always happy to accommodate our requests or assist wherever possible."