Nationwide Platforms rolls out revolutionary safety device 'Harness On'
NWP has begun to roll out its innovative and award-winning safety product - Harness On which is currently being installed on Nationwide's own Specialist Vehicle (SV) fleet.
April saw the beginning of a three-month operation to have Harness On fitted to its internal operated SV fleet. Nationwide Platforms hires out the machines with its own experienced operators to showcase the product, leading by example the way to safer working practices. The versatility of the SV fleet with its ability to cater to a vast array of projects means the fitting of Harness On to the fleet opens doors for the whole industry to experience how the device makes working at height safer.
Harness On is also currently installed on a number of Nationwide Platforms' boom lifts with the aim to have over 6,000 machines fitted by Christmas.
Harness On is a ground breaking device in industry safety standards as an ingeniously simple product that ensures the safe working of employees working at height. Nationwide Platforms' BlueSky Solutions team is dedicated to developing innovative solutions in line with the company's commitment to remaining at the forefront of working at height safely.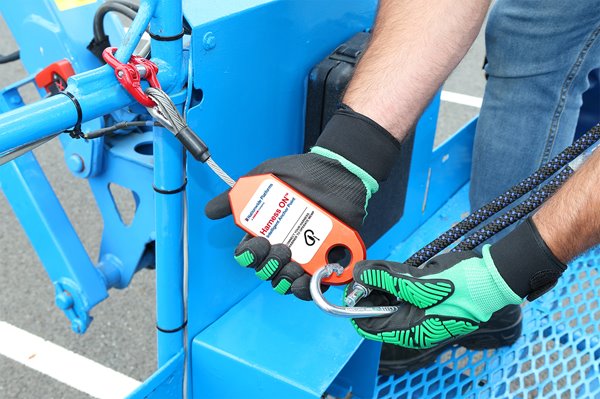 Designed to prevent falls, and leveraging the latest induction technology to create smart anchor points, it secures the worker into the basket or platform for all mobile elevating work platforms (MEWPs).
After four years of development and numerous on-site trials, Harness On phase 2 improves on the previous design with a special inductor ring that can be used with any harness. This makes the latest system simple to adopt and less disruptive to current working practices.
The device is connected to the machine function enable circuit, which means that the operator must have a complete connection via their carabiner for the machine to work. Without it the machine will simply not operate. The latest model also features a light on the side so that operators can see when the device is working or may have a fault if the light fails to illuminate.
Harness On reduces the risk of human error or complacency when fastening harnesses and virtually eliminates the possibility that the operator will fall.
Nationwide Platforms are aiming to get their own boom lift fleet fully kitted out by the end of 2023 as a new bench mark in industry safety standards and look to have Harness On taken up industry wide.
Christopher Houlton, Manager - BlueSky Solutions said, "We are really excited about this new evolution of Harness On and hope to get as many people exposed to this device as possible in the coming months. There's nothing else on the market that is quite so wide reaching with multiple applications across such a wide range of machines. Harness On is the future of safely working at height."
Glenn Hall, Head of Sales - Specialist Vehicles & Tracked Booms at Nationwide Platforms said: "With Harness On already being utilised and talks with other companies underway, having our 26m and above operated trucks kitted out as an initial commitment and demonstrating how the device works is a great step to ensuring safer working conditions across the industry. With Nationwide Platforms leading by example we hope to see more companies take up Harness On and continue the hard work that has been put into designing and utilising the product."
For more information about Nationwide Platforms' range and to enquire about hiring a machine, please visit our
Powered Access hire
page