SkyTel™ Hyde Park
Telecoms
The project
Part of projects to boost mobile network capacities at Killington service station and provide temporary coverage at an iconic event at Hyde Park, London, Nationwide Platforms recently provided truck mounted platforms fitted with its best practice innovation, SkyTel™ antenna handling attachment.
.
The challenge
In order to provide faster mobile network speeds and greater bandwidths, the latest generation of broadcast antennas has been developed to fully encompass complex equipment such as Remote Radio Units (RRUs), Mast Head Amplifiers (MHAs) and Active Antennas. Although capable of satisfying modern demands, the new antenna units are heavier and more unwieldy than previous models, presenting new challenges, and rising costs, with the installation. While the use of cranes reduces a proportion of the associated risks - chiefly around manual handling and dropped objects - the cost involved and site space availability can prove challenging.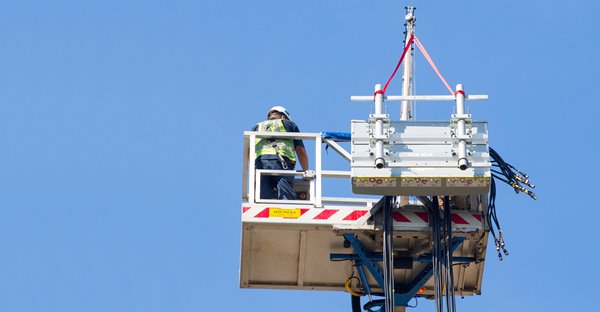 The solution
Working with the telecoms industry to help provide a solution to this challenge, Nationwide Platforms and its dedicated research and development division, BlueSky Solutions, developed SkyTel™, a bespoke antenna handling device to assist with the safe and efficient installation and decommissioning of antennas at height using powered access.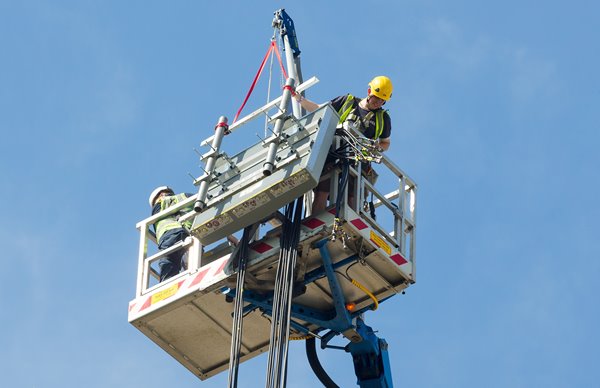 The benefits
On two particular applications, one fitted to a 33 metre Ruthmann truck mount at Killington services and the other to a 38 metre Bronto truck mount at Hyde Park, the use of SkyTel™ ensured the antennas, weighing up to 150kg, were installed in a safe and efficient manner. As well as reducing manual handling, additional benefits included reducing the number of riggers needed in the basket of the truck mount to install the antennas as well as eliminating the need for costly methods of handling antennas, such as the use of cranes. SkyTel™ is also an ideal solution when working on a site with restricted space, especially when accommodating both an access platform and a crane is not possible. Precise positioning of the antennas is also possible due to the device's 270 degrees rotation, 200mm radius adjustment and lightweight aluminium chain block.