COVID-19 secure
Nationwide Platforms corporate statement regarding the Coronavirus outbreak
10th June 2020
Hire with confidence
Our dedicated operational, safety and engineering teams have worked tirelessly to develop a COVID-19 Secure Plan. In line with the latest advice from the UK Government and the International Powered Access Federation (IPAF), this guidance has been designed to minimise the risks of COVID-19, and allow you, your workforce and our team to continue to work safely.

Download your copy here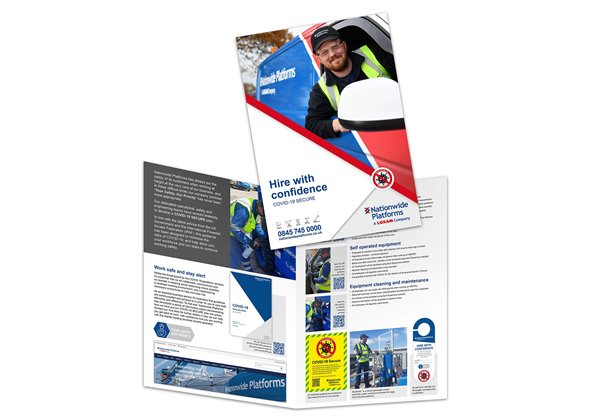 _______________________________________________________________________


5th June 2020
Protect your workforce with SkyShield
Nationwide Platforms has introduced its latest innovation in safety, SkyShield™, which has been designed to minimise the risks of COVID-19 when installed on its range of truck mounted platforms.

View the full article





_______________________________________________________________________



4th June 2020
View our latest video demonstrating our COVID Secure method
As always, our priority is to keep you safe when working at height. If you wondered what steps we take to keep you and your colleagues protected, check out our latest video which demonstrates our COVID Secure method using Quill Supernova sanitising solution.

Van and Truck Mounted Platfroms



MEWPs (Mobile Elevated Work Platforms)


______________________________________________________________________



29th May 2020
Europe's largest IPAF provider resumes Training
Nationwide Platforms has reopened a number of its training centres after it temporarily suspended IPAF training services as a result of COVID-19.

Following the introduction of Government and industry guidance, Nationwide Platforms has now opened 15 training centres throughout the UK to provide a range of working at height training, including IPAF's 3a and 3b Boom and Scissor Lift Training. It will also be offering IPAF's 1b Static Boom and PAL+ courses as well as PASMA's Tower Training at the majority of the locations.

For more information view the full news release
______________________________________________________________________



26th March 2020
Important Information - Machine Shutdown & Isolation Process

We hope you are keeping well during these challenging times. As the COVID-19 crisis continues, we are entering into a difficult period as many of our customer projects are now on hold for the next few weeks.

If you are affected by any project suspensions it may be necessary for you to leave equipment on site for a prolonged period. If the machine is not completely and fully isolated the battery could run flat causing delays when the unit is next needed.

To support this we have put together the following guidance for correctly shutting down and isolating the machine, along with a SkySentry - Activate & Immobilisation Procedure.

Even if you don't require it right now, please save these documents for future reference.

For customers who are still operating, Nationwide Platforms will continue to support you.

We wish you and your colleagues the very best of health.
---


26th March 2020
Customer Communication - COVID-19


Dear Customer,

We are extremely aware that we have now entered a very challenging and unprecedented period in terms of the UK. Nationwide Platforms is committed to supporting all our customers to the best of our abilities as we collectively strive to overcome the COVID-19 crisis.

Nationwide Platforms has always existed to ensure you and your teams remain safe, productive, profitable and expertly trained when working at height. It is our business to align ourselves with the industries you operate in so that we understand the unique pressures and challenges you face and to provide safe solutions based on your bespoke needs. This approach has never been truer than today as we continue providing you with our industry-leading service and support during these uncertain times.

We always operate to exceed the minimum standards of safety and today we continue our dedication to these highest levels of maintenance and support. Additionally, we want to assure you of all the additional measures we are taking to keep you, your people, and your communities safe:
In addition to the above measures:
In support of social distancing, all employees are working from home where possible with the support of our cloud-based technology, complemented by back-up servers

Depots are still running, and we have very strict guidelines on working practice aligned to the UK Government's guidelines

Our field engineers and truck mount operators have all been briefed on the revised COVID-19 business continuity measures

COVID-19 business continuity control measures ensure each of our machines receives a high-pressure wash upon returning from hire. Truck and van mounted platforms receive a cockpit cleanse prior to each hire

Where possible, Nationwide Platforms is working hard to ensure as close to a 'Business as Usual' customer service as possible, however, we acknowledge this will become more and more challenging. We will support all our customers to the best of our abilities and please communicate with us directly should your requirements change.

In support of the national interest, we have a clear policy of supporting the UK's emergency services and critical infrastructure and will continue to do so throughout the COVID-19 crisis.

We will continue to put the well-being, safety and health of our employees, customers and communities at the heart of everything we do. We wish you the very best of health and look forward to continuing to support your business.

Yours faithfully,

Don Kenny
Chief Executive Officer
---
23rd March 2020
Training Customer Statement: COVID-19
All Training Courses Postponed

As always, the health, safety and wellbeing of our customers and team members is our utmost priority. During these uncertain times as the Coronavirus outbreak continues to unfold, we have made the decision to temporarily postpone all training courses until the 1st June with immediate effect.

While there have been no reported cases of COVID-19 at Nationwide Platforms locations, we have a duty of care to protect the health and wellbeing of our customers, staff and the communities in which we operate. As a matter of priority our Training Support Team are getting in touch with those that will be affected by this decision. If you have a training course booked up to and including 31st May, we will contact you to offer an alternative date, subject to availability.

As we continue to monitor the situation closely, we will provide further updates via our website as to when we are happy to continue providing our award-winning training solutions across the UK. If you have any questions or concerns, please contact 01455 552800 or email training@nationwideplatforms.co.uk

From all our team at Nationwide Platforms, please take care of yourselves, your families, and your communities in the coming days and weeks.


---
20th March 2020
Company Performance Statement: COVID-19

As a national company with operational locations UK wide employing over 1,000 staff we are and will continue to be affected by the COVID-19 outbreak.

Nationwide Platforms are following government guidelines regarding the self-isolation of employees. We have and will continue to take proactive action in the encouragement of homeworking where possible as we support high-risk individuals within our workforce to isolate from business and customer locations.

As a result:

At this time, we are not in the position to share details of individual cases relating to any of our employee's sickness or self-isolation but can confirm we are experiencing incidents in line with current UK averages.
We are not currently experiencing, and do not at this time anticipate any shortages which impact our ability to provide our customers with operated or self-operated powered access equipment, nor any of the additional services we offer, including but not limited to Traffic/Pedestrian Management and/or trackway.
We look forward to continuing to support our customers, ensuring you remain productive and safe in your work commitments and will provide updates should any of the above information be subject to change.

Please refer to our earlier statement for further information on our approach to COVID-19 above.
---
10th March 2020
Nationwide Platforms Statement: COVID-19
In response to the increasing risks associated with Coronavirus, Nationwide Platforms has created an internal Contingency Management Forum to ensure our organisation has planned for, and takes all appropriate actions to ensure that both the risk of an outbreak of Coronavirus in any of our locations is minimised and that corrective action plans are in place for such an eventuality. These plans and actions are designed to enable effective business continuity and maintain employee safety. These plans are primarily being developed in line with the latest government guidance.

Nationwide Platforms continues to assess developments with respect to this risk. Firstly, and most importantly, we continue to monitor the situation in the affected countries in which our supply chain operates. We are taking appropriate measures to enable us to continue to provide our customers with the industry-leading service and support they have come to expect of Nationwide Platforms throughout this situation.

We currently maintain a significant inventory of spares and parts in all of our depots, with a mix of both owned and consignment stock. Our stock levels are designed with a generous safety buffer to enable us to continue to deliver our business in most operating conditions, with no negative impact to our customers.

Our inventory supply arrangements are managed in conjunction with our external service partners and suppliers, with whom we have long-standing, strong relationships. In addition, we have robust supply chains, with many dual-source options in place. This means we do not anticipate any challenges regarding spares availability in the short to medium term. Our internal systems enable us to have clear visibility of inventory across all of our business locations throughout the UK and our overseas territories, thus providing us with additional flexibility of supply from within our global stockholding should a stock shortfall arise.

Assuming the current COVID19 virus outbreak is to persist over an extended period, we have mechanisms in place to review and prioritise maintenance decisions to ensure we focus on assets which maximise availability and services for our customers.

Nationwide Platforms introduce new machines into our fleet periodically via our wide supplier base with a global manufacturing footprint. Should the supply of new machines be impacted by a restriction on imports, we have invested heavily in recent years, and are confident that our existing modern fleet will continue to meet customer requirements.

We realise this situation remains very dynamic and develops day-to-day. We will continue to provide updates as we learn more and will confirm further details should new information come to light.

---
10th March 2020
Training Customer Statement: COVID-19

The health and safety of all our customers, suppliers and colleagues is of paramount importance to us and is our foremost priority. At this moment in time Nationwide Platforms are working to a 'business as usual' approach; though we hope this will remain the case we are continually looking to the latest government guidance to ensure we are doing all we can to combat the risks associated with the COVID-19 outbreak.

To ensure we are working within safe parameters we have put in place a series of mandatory guidelines which must be followed by those that enter our business premises, including our Training Course Delegates, to ensure we are able to continue operating effectively.

We therefore require you to adhere to the following guidelines:
Should you experience symptoms that are linked to the coronavirus, please do not enter any Nationwide Platforms Training Centres.

If there has been a confirmed case of coronavirus at any of your business locations, please contact the Nationwide Platforms Training Team on 01455 552800 to rearrange your course for a later date.

Frequently wash your hands and/or use a sanitiser gel. Do not touch your mouth, nose or eyes unless you have just washed your hands.

Please do not enter any Nationwide Platforms office/workshop environments and remain in the confinement of the allocated training area.

Do not shake hands with an Instructor who is delivering the training course

Please dispose of all tissues in the bins provided

Use only the nominated rest room / washroom in the building, as advised by the Instructor on the day

By taking these necessary steps, we can minimise the risk of an outbreak at our locations and ensure your safety whilst in our duty of care.

We understand this situation remains very dynamic and further developments are being issued by government daily. We will continue to provide updates and adapt our processes if appropriate as further details and new information come to light.

Thank you in advance for your support.